---
High-end material: ultra-lightweight kakanalon synthetic fiber imported from Japan, very close to human hair; natural luster. The 13x7 inch large lace area Swiss soft lace front black braided wig is suitable for dark skinned women and looks very realistic.
Length: The front lace woven wig is about 28 inches long

Weight: about 11 ounces
Texture: The wig is soft, comfortable, natural to the touch, lightweight twist braided wigs. The weave is neat, the lace is like a natural scalp, it looks like your real hair.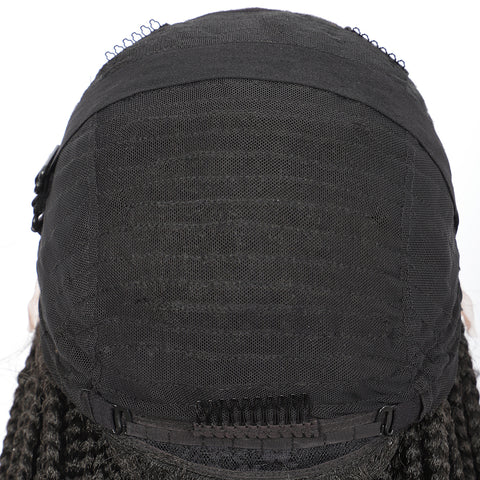 Hat size: The wig cap is made of breathable high-quality materials, adjustable and comfortable. The circumference is 21.5-22 inches, ear to ear 13.5 inches -13.75 inches, front and rear 14 inches -14.5 inches, suitable for most head shapes. Elastic stretch mesh cap, with 2 adjustable straps and 3 combs, as a daily wig, ladies party wigs are difficult to fall off.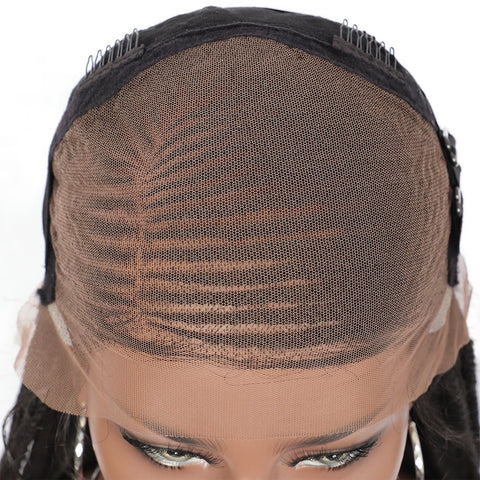 Function: Very suitable for daily use, Halloween, concerts, theme parties, weddings, appointments, etc.
Opportunities

The Synthetic Hair Lace Front Wigs Could Fit Black or White Women, Perfect for Daily Use, Every Day Wear, Any Concerts, Gifts, Theme Parties, Weddings, Dating, Cosplay, Costume Party or Halloween Wigs for Women etc
Cap Size
Our Kalyss Cap Circumference 21.5-22" , Ear to Ear 13.5"-13.75", Front to Back 14"-14.5" which fits most head size. 100% Breathable Net Would Make You Feel Comfortable When You Wear It.Adjustable Straps and 4 Combs On Wig Cap for a Secure and Sung Fit
MEASUREMENT
Tips:
1, The right way to meansure the hair is to make it stretch, especially for wavy and curly hair. When you measure the hair, you should stretch the hair to straight, instead of measuring it directly;
2, There maybe a little inaccuracy unavoidably because the hair is measured by hand, please kindly umderstand.
Wear
Clear
①Get ready for everything and wet the hair with warm water
② Soak the hair with mild shampoo for a few minutes
③ Do it again to make sure the hair is clean
④ Raise the hair in clear water once
⑤ Cover the hair with the towel to soak up the water on it
⑥ Hang the hair with the open and air-dry it and curls holds well