Choose Kalyss wig, choose beauty !!!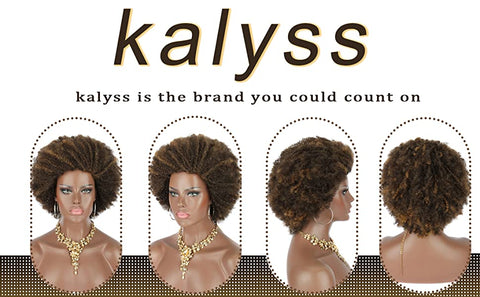 1.Kalyss wig is made from natural looking synthetic fiber which could hold its shape for long time using.

The hair is soft and smooth, without dry ends and shedding.

2.The density of wig is 150%, sewing with an realistic looking scalp.

3.Lilky texture and breathable mesh net will fit on your head comfortably.

Specification:
1.Material: High Quality Heat Resistant Synthetic Fibers(Temperture:150c/302f)
2.Color: Brown Highlights
3.Size:Approx 8-9 inches
4.Texture:Natural looking and soft touch
Warm Tips:
1.Color Sometimes may be different From the photos because of your computer monitor's color setting or other reasons.


 1.Kalyss wigs internal is used open-welf structure,make it more lighter and cooler.

2.Side pads also add an extra level of comfort and ensure that your wig won't shift out of position during use.

3.Two adjustment straps can be intertwined to a fixed position, and can be adjusted to different head sizes.

4.It's very soft and comfortable make you forget you're have wearing it. 
How to wear it ?
1.Brush your own hair to be smooth.
2.Tie your hair up to be a bun.
3.Stretch the wig cap upon your head and push all of your hair into the cap and tie up the cap.
4.Put the wig on your head and pull the adjustable straps to accommodate your head.
5.Buckle up the straps and brush the wig again.
Wig Clean and Care Tips
1.Brush the wig with a wide-tooth and soft comb. If curly wig, please comb the head portion only, it would be better to use finger to comb the curly portion.
2. Add some shampoo in cool water.Swish the wig gently in the water until the wig is saturated and soak for about 15 min.
3.Empty the water and use clean cool water to rinse the wig several times.
4.Gently squeeze water out of the wig. Spread the wig out on a dry towel and leave in a ventilated area to dry overnight.

About us: as a wig manufacturer, we sell our wigs to customers directly and we never use the third party sources, so we could pass a lot savings to kalyss customers directly.

Our service: we promise the style and hair type you get is like the picture showing, kalyss is a brand that you can count on. Any defective product are 100% refunded or 100% new replacement.